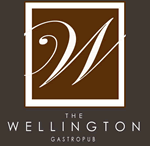 Yesterday was my manfriend's 30th birthday, so we wanted to have a special dinner with friends to celebrate. Our group was a mixture of vegans, omnivores and myself, so it was kinda hard to find a suitable restaurant. Not to mention that we were also hoping to find a place with a nice touch of ambiance to celebrate such a milestone. We settled on The Wellington Gastropub. We called them a few days in advance and informed them about our unique group. They said they'd be happy to cook something gluten-free and vegan for us, and would be ready for our arrival. We had no idea what they had in store, but all of us were excited to see what the talented chefs in the kitchen would create for us. Oh, the suspense!
When the appetizer came, it was a beet carpaccio topped with an apple slaw and greens in refreshing vinaigrette, and a mixture of candied nuts. It was light, delicious, and the perfect teaser to whet our appetites. When the main course arrived, it was a bed of rarely seen local
salsify
topped with lentil patties that were soft and steamy on the inside, and crispy on the outside. The dish was garnished with pea shoots and complimented by a savoury coconut milk sauce with a hint of lime. It was really a "wow" meal for all of us. I didn't want it to end! And boy, do I wish I had a photo!
For dessert, I had come prepared with a layered double chocolate gluten-free vegan cake, brushed with ganache and coffee liquor between the layers and finished with an espresso frosting and dark chocolate drizzle. (I bet you didn't know I could bake, eh?) I figured the restaurant might not know what to serve our group for dessert, so I wanted to make sure there was at least some b-day cake we could have. Turns out The Wellington Gastropub was also prepared! They offered us fresh poached pears drizzled in a raspberry coulis. Mmm! We opted to have a little of both, and they graciously accepted to serve my cake with a side of their lovely pears. They even put a candle on the birthday boy's cake! It was truly a meal to remember!
The service was prompt and very polished, yet relaxed and enjoyable. The chef even came to our table a couple of times throughout the night to chat and ask questions about our preferences. We felt so welcomed and very spoiled indeed! I got the impression that they genuinely enjoyed the challenge of creating a unique meal for us, instead of dreading having to accommodate difficult customers. I was really touched by their willingness to craft something special for our birthday celebration, and would highly recomcommend the Wellington Gastropub for any special night out.
In terms of price, we spent about $11 for the appetizer, $18 for the main, $3.50 each for the cake cutting fee, and about $55 per bottle of wine. I think they might have given us the pears on the house, but I'm not 100% certain since I left my receipt behind… Woops!
The Wellington Gastropub
1325 Wellington Street
613-729-1315
info@thewellingtongastorpub